Join us for our monthly virtual presentation facilitated by experts in their field.
January 26, 2024
4:00 - 5:00 pm (Eastern)
TOPIC: Diagnosis of Immune-Mediated Anemias in Dogs and Cats
Presenter: Dr. Cynthia Lucidi
Dr. Cynthia Lucidi is an Assistant Professor Clinical Pathology, Department of Pathobiology and Diagnostic Investigation at Michigan State University. She received her DVM from Federal Fluminense University, Brazil and completed a residency in Veterinary Clinical Pathology at Sao Paulo State University, Brazil. Dr. Lucidi performed specialixed training in experimental medicine at the National Institute of Cancer in Rio de Janeiro prior to joining the residency program in Veterinary Clinical Pathology at University of Wisconsin-Madison. She holds a PhD and is a Diplomate, Clinical Pathology, American College of Veterinary Pathology. Her research interests include immune-mediated cytopenias and blood and bone marrow disorders.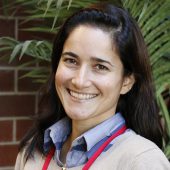 Our monthly presentations are no more than one hour long and cover a variety of topics we believe you will find interesting. Also, all sessions are recorded and made available in our Forums for viewing on-demand by our members at a later time.