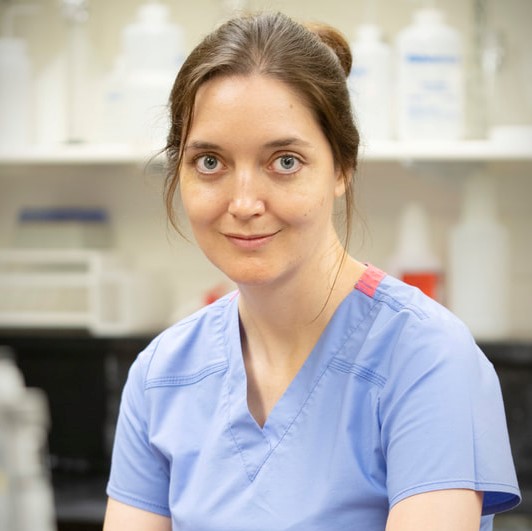 Unity Jeffery, VetMB, PhD, DACVP
(Clinical Pathology)
Director
Dr. Unity Jeffery graduated from the University of Cambridge in 2008 with a Bachelor of Veterinary Medicine (VetMB), spending a short time in companion animal primary care practice in the United Kingdom. She joined Iowa State University in 2010, where she completed a Residency in Clinical Pathology in 2013 and a PhD in Immunobiology in 2016. She is currently employed as a Clinical Assistant Professor in the Department of Veterinary Pathobiology at Texas A&M University, where her time is split between clinical duties in the Veterinary Medical Teaching Hospital, student teaching, and running the Dogs Helping Dogs research laboratory. Her personal research is focused on improving diagnostic tests for companion animals, including those for immune-mediated disease, and on bleeding and clotting disorders in dogs and cats. Her collaborative research includes the Dog Aging Project, a federally funded longitudinal study assessing contributors to healthy aging in dogs, including evaluation of the role of the immune system.